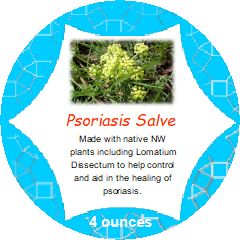 Psoriasis Salve
Psoriasis no longer needs to be an untreatable condition! Apply salve as often as needed especially in the morning before getting dressed and after showers. Be sure not to use harsh soaps as they will increase the drying effects with psoriasis. The use of topical steroid creams will not treat the problem but only reduce the inflammation. I have seen complete disappearance with regular use for two weeks of continual use. I hope that it helps you as much as it's helped others! We use only whole plant materials and no fragrance, essential oils or other ingredients that may irritate the already bothersome skin problem.  
Ingredients: Coconut oil, sweet almond oil, beeswax, lomatium dissectum root, comfrey root, marshmallow, dandelion, St. John's wort, mullein leaf, burdock, comfrey leaf, Greek oregano, German chamomile, lemon balm and calendula flower.
Apply liberally to areas affected by psoriasis. Apply to clean dry skin. Use as often as needed.
Volume: 4 ounces
Reviews